Evil Eye Bracelet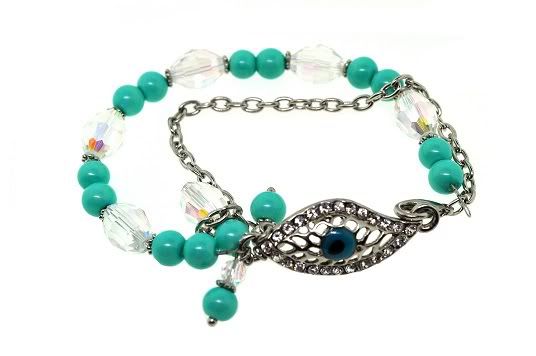 Flex wire size: .012
Start of by unrolling about 1 feet of flex wire so you can have room to bead your bracelet.
Bead Size: 6mm Color: PMS4
Take 2 beads and string them through your flex wire, you will need 15 beads to make this bracelet.

Size 8x11mm Color Crystal AB
Add 1 olive bead after your spacer and 2 glass pearl beads, continue this pattern 5 times. You will need 6 beads to make bracelet.
Tube Crimps
Color used: Nickel
After you have completed the pattern add 2 crimp beads. Create a loop with the flex wire and run it through both crimping beads. Use a chain nose plier to squish the crimping beads ensuring closure. Cut the flex wire and to the same crimping for the other end of the bracelet.
Jump Ring
Size: 4mm Color: Nickel
Add a jump ring to each side of the now crimped bracelet.

Color: Nickel
You will need 3 head pins to hang off one end of the evil eye pendant. Add 1 glass pearl, a spacer, and 1 4mm round bead to 2 of the head pins, and add 1 olive bead, spacer, and glass pearl to the 3rd head pin. Loop and cut the head pins with Round Nose Pliers and Cutter nose pliers.

Size: 4mm Color: Crystal AB
Utilize these beads for the head pins.
Clasp size: 12x6mm
Open one of the jump rings from your beaded bracelet and attach the clasp.
Congratulations!
You have created your own Evil Eye Bracelet.